Logo
Call us for your metering needs on 03333 397 997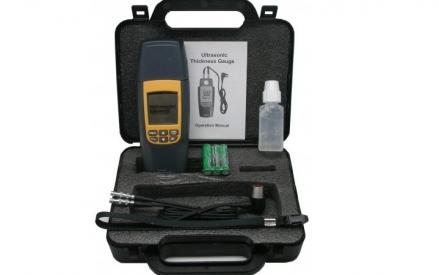 Ultrasonic Thickness Gauge, Pipe Wall measurement, HIRE
---
Our ultrasonic pipe wall thickness testers work on materials from 1.2 to 220mm and also outputs the ultrasonic wave velocity measurement function from 1000~9999 m/s.
Complete with features like memory for user-defined materials wherein the user can set & save their sample materials, adjustable ultrasonic velocity, selectable mm & inch measurement unit, coupling indication and built-in metal block for calibration (4mm), low battery indication and power off functions.
It can be used to a wide variety of materials including iron, steel, glass, plastics, toughened tile, brass, gold, silver, zinc, water (at 20°C) and other materials.

Features
Measuring pipe wall thickness for materials such as steel, aluminium, copper, glass, etc.
Ultrasonic wave velocity or thickness display
Manual material selection
Adjustable ultrasonic wave velocity
Selectable thickness unit, "mm" or "inch"
Ultrasonic wave velocity testing
Set & save your own materials (up to 5 memory)
Coupling state display
Fast response of just 0.6sec
Auto timed power off
Low battery voltage indication
Built-in calibration metal block (4.0mm)
Software calibrating to ensure high reliability
Tested according to European international guidelines and standards (CE Marking)
Designed according to EMC Directive: 2004/108/EC
Ultrasonic wave frequency: 5 MHz
Digital display: 4 digits
Measurement Range: 1.2~220mm (steel)
Ultrasonic wave velocity: 1000~9999m/s
Resolution: 0.1mm
Accuracy: ± (1% H + 0.1mm)
Measurement Rate: 0.6 seconds
Power supply: 3 x 1.5V AAA Batteries (Included)
Operating Temperature: -10~50°C (14~122°F)
Storage Temperature: -40~70°C (-40~158°F)
Size: approx. 165 x 60 x 30mm
Weight: approx. 210g (batteries and probe included)
Set Includes
1 x Ultrasonic Thickness Meter
1 x Ultrasonic sensor probe
1 x Coupling Paste
1 x Lanyard
1 x Operating Manual
3 x AAA Batteries
1 x Protective carrying case