Logo
Call us for your metering needs on 03333 397 997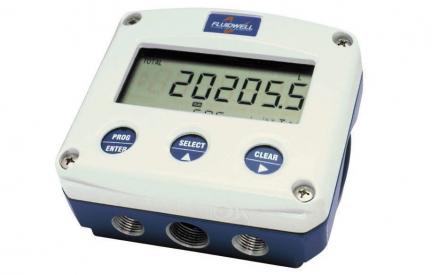 Flow Rate and Totalizer display with outputs, F110
---
The F110 is a flow rate and flow total display and output unit. The F110 takes a single input from your flow sensor either 4-20mA or Pulse then uses that to calculate your flow rate and flow totals. It has two totalisers (resettable and lift time). The F110 can output both the rate via a 4-20mA output and a pulse output for flow volume. The F110 display can be powered from a range of power supplies or an internal battery and can be used to power the flow sensor. The F110 can be made from GRP or Aluminium. It is easy to read the large display and has an optional LED backlight.
Features
Analog and pulse outputs.
Displays total and flow rate simultaneously.
Large digit selection for flow rate or total.
Flow rate: seven 17mm (0.67") or 8mm (0.31") digits.
Total - resettable: seven 17mm (0.67") digits.
Accumulated total - not resettable: eleven 8mm (0.31") digits.
Separate engineering units for flow rate and total on the display.
Remote control input to reset total or to lock the "clear total" button.
LED backlight.
Auto backup of settings and running totals in EEPROM memory.
Ambient temperature: -40°C to +80°C (-40°F to 176°F).
Various accessories are available for this product.